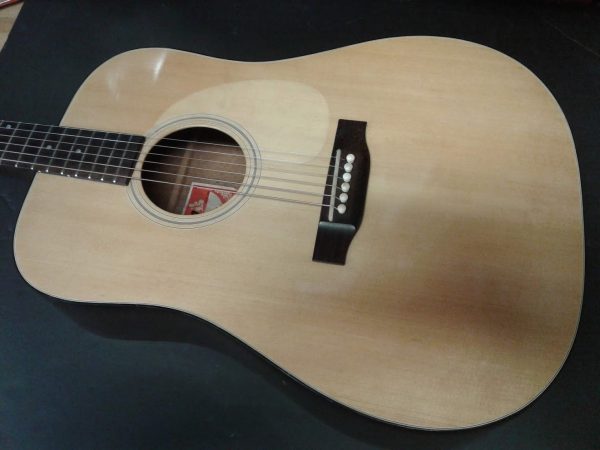 This Gibson J-50 Deluxe was through the shop a few years ago for a major overhaul. A total of about $1200 of work went into it, including a new bridge, bone nut, bone saddle and a custom-fit set of bone bridge pins, New set of Kluson tuners, refinishing the top, a total refret and some fingerboard work, and splints and patches to fill some larger cracks. Oh yes, and this stylish clear pickguard to match the UV-fade left by the original pickguard.
Tone, tuning stability and sustain are always greatly improved by proper, professionally made, bone nut, saddle, and bridge pins. Bridge pins are an often over-looked piece of the equation. The pins do more than just fix the string to the body. When we make you a set of pins we start with over sized bone pins and ream out the holes to the exact size and taper. This makes for an absolutely positive contact between bridge pin and bridge which makes for optimum transfer of vibration. Each pin also gets labelled because each pin fits specifically and perfectly to each hole.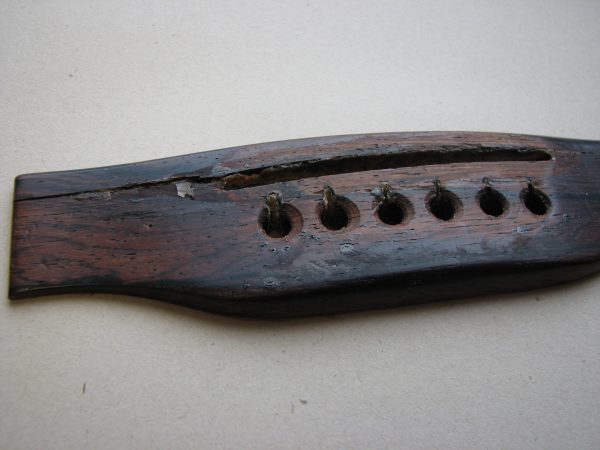 This was the original bridge… after some clean up… Somebody had just loaded it up with epoxy… It had definitely seen better days. And the time had come for a new one.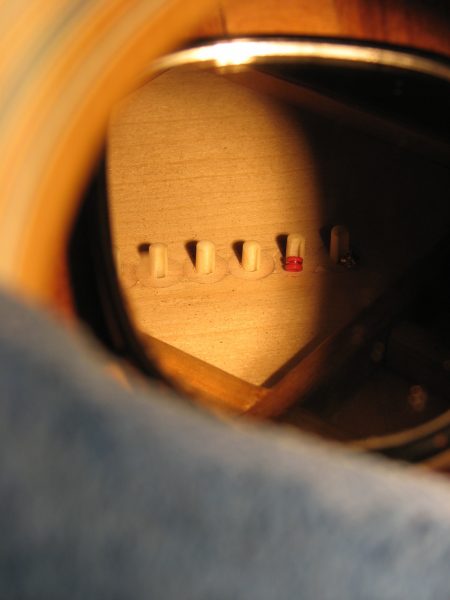 View through a mirror to the inside of the top, this is the bridge plate with the pins coming through. The original holes in were all chewed up and rough so we patched them and put new clean holes through.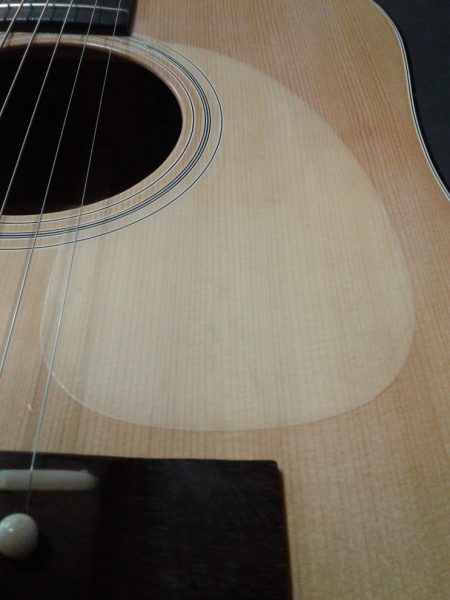 This part was fun, making a clear pick guard to match the outline of the UV-fade left by the original.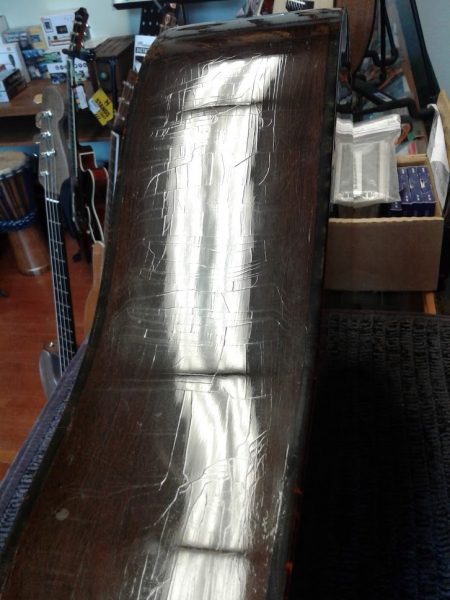 This shot of the side gives an idea of what the top used to look like. It was cracked and checked across the whole thing.
All in all a very successful and fun job. And a good example of what in-depth work we are capable of here at Mountain Fruit Folklore. It is nice to see that the work is holding up and the guitar sounds great!
This guitar has certainly got many many more years ahead of it, playing, sounding and looking beautiful.
And that is why we do what we do.