Frogs that are stubborn in movement when tensioning hair and have a gap between them and the stick are common and in many cases are due to a loose eyelet or, as in the case of this bow, an eyelet that was installed at an incorrect angle. Correct alignments and tolerances of all the components that join frog and stick together are a necessity if the frog is to move easily and to reduce wear on the parts. None of this is too surprising as tensioning the hair definitely produces some stress on these relatively delicate moving parts.
Correcting a loose or misaligned eyelet is usually straighforward with the wonderful eyelet alignment tool in the photo below. One can drill an oversize hole for an oversize shank eyelet at a perfect right angle to the underslide. Or one can drill out the entire damaged area and fill it with an ebony plug and redrill for a std eyelet depending on the situation.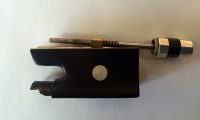 This frog had an eyelet installed at quite an angle.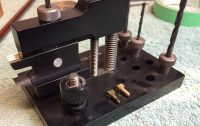 Removed existing eyelet on left, drilled an oversive hole with tool pictured and installed thick shank eyelet.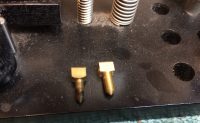 Std vs Thick Shank Eylet.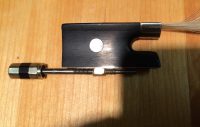 New eyelet installed solidly and showing good alignment!