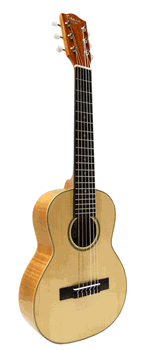 With hard shell case
This is the perfect travel guitar!
Solid spruce top and mahogany back and sides.
Tuned a 4th higher that standard guitar tuning.
The Cuatro is a Venezuelan instrument. Most players strum the instrument (the reason for the tap plate built seamlessly on the upper bout), and the Cuatro's sound tends to serve as a rhythmic and harmonic base.
Popular for its simplistic design and its compact size (20.5″ or 521mm scale length), the Cuatro is a versatile instrument fit for all styles and varieties of music. Cordoba's Cuatro is made with a solid Spruce top, mahogany back and sides and a mahogany tap plate.
Our Cuatros are tuned to D-G-B-E (standard Baritone ukulele tuning).