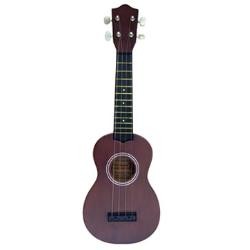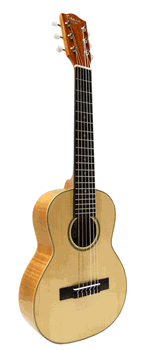 Hand-crafted acacia top and back ukulele, with cutaway and a pickup.
Price includes Cordoba gig bag.
With hard shell case
The SK-20S is perfect for tiny people with tiny hands! Solid mahogany top with laminate back and sides. Ohana ukes are very good bang for the buck.
Affordable quality tenor uke with a solid mahogany top and laminated back and sides.
Another all solid uke with bone nut, saddle and the historic pineapple shape.
  WAS $169 NOW $99!
Sealed geared tuners and solid top, back and sides make this uke a step up. All mahogany CK-35S.
This is the perfect travel guitar!
Solid spruce top and mahogany back and sides.
Tuned a 4th higher that standard guitar tuning.
The Cuatro is a Venezuelan instrument. Most players strum the instrument (the reason for the tap plate built seamlessly on the upper bout), and the Cuatro's sound tends to serve as a rhythmic and harmonic base.
Popular for its simplistic design and its compact size (20.5″ or 521mm scale length), the Cuatro is a versatile instrument fit for all styles and varieties of music. Cordoba's Cuatro is made with a solid Spruce top, mahogany back and sides and a mahogany tap plate.
Our Cuatros are tuned to D-G-B-E (standard Baritone ukulele tuning).