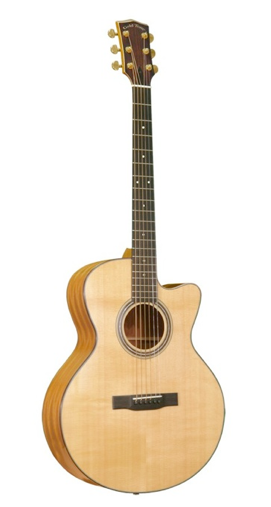 This is a wonderfully rich and gutsy sounding guitar. Tuned in between the ranges of a standard 6-string and a bass (usually BEADf#b or ADGCea), it is great for filling out the bottom end of a rhythm section to replace or compliment a bass part while still having a reasonably high range for chording and maybe a little lead work. I personally love the punchy, driving sound of this guitar and would be tempted to put it into a drop-A (AEADf#b) or other open tuning.
Solid Sitka Spruce top, Mahogany back and sides. It has a 29-1/16″ scale length and a zero fret. The strings are a higher gauge to keep the string tension feeling comparable to a standard guitar. this instrument comes with a pickup installed, it is a passive under-saddle transducer with endpin jack. Fitted hardshell case included.
Check out this quick demonstration:
Featuring a solid Sitka Spruce top with Maple back and sides, this jumbo bodied acoustic bass has a full, clear tone throughout it's range. The action is great and very playable all the way up the neck. Cutaway gives you access to the 20th fret. Includes Fishman ISYS+ pickup.
Case not included
Fantastic fingerpicking guitar with the unique clarity and versatility of an Adirondack spruce top. This particular guitar and run of 600 are special because Eastman discovered some unused Adirondack spruce cut some 20 years ago! Slightly larger than a parlor model but still has that small, easy to hold body and focused projection.
Le 'Petite Bouche' or oval hole model of Gypsy Jazz guitar was developed after Mario Macaferri parted ways with Selmer. With a longer scale length and joined at the 14th fret this style of guitar is what Django Reinhardt used for lead playing with his 1930's orchestra. Most noticeable about these guitars, besides their unique sound is the wider finger board, measuring 1 7/8″ at the nut. Hardshell case included.
The Cigano GJ-15 is a decent entry level Macaferri copy made by Saga Instruments. Fit and finish is nice, it does a reasonable job of producing that  bright thin punchiness to play rythm backup for Django or your frineds and it comes with a hardshell case.
Left- and Right-hand in Stock!
Solid cedar top, laminated mahogany back and sides. Wood binding and rosette, bone nut and saddle, intonated and a matte finish.
Solid cedar top, cutaway with Fishman Isys+ pickup system.
One of the most playable 12 strings I've encountered in this range. All the same fabulous value of the other Tetons.
Teton is a new line of guitars conceived in Idaho and manufactured in China. The quality of what one gets for the price in these instruments is remarkable. This GC model comes in a solid cedar top or spruce top version. The craftsmanship has been impeccable in these intruments. All wood binding and rosette, bone nut and saddle, intonated. Very playable out of the box and decent tone. Hard to go wrong for $349.
Comes with a Hardshell Case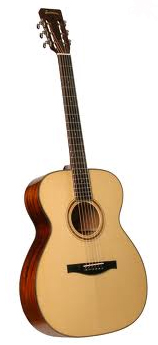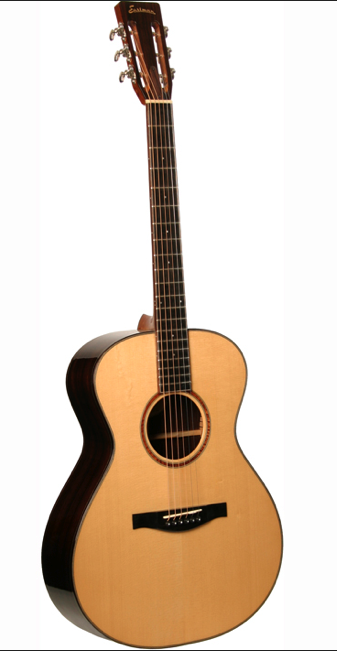 Popular choice for fingerstyle playing

Solid Adirondack spruce top, solid mahogany sides & back

Dynamically responsive ebony fingerboard

Extended volume range ideal for ensemble playing