The Loog is a modern take on the traditional cigar box guitar, a 2 or 3 stringed instrument that used a wooden cigar box as the guitar body. Back in the day not everyone could afford "real" musical instruments, but an old cigar box, a piece of broom handle and a couple of wires brought music to life. These homemade guitars actually played a very important part in the birth of the blues in America.
The Loog is a simple 3-stringed guitar that comes as a kit and can be assembled with basic tools in no time. (As little as 15 minutes!) You can choose from electric or acoustic versions of the guitar, both of which are really fun to build and cool looking too. But the best part is that you get to build the instrument together with your child.
But don't be fooled, this is no toy, and it's a real step up from a cigar box guitar. This is a real, well designed, and very playable instrument. Designed specifically to help kids, or anyone else, enjoy playing music quickly.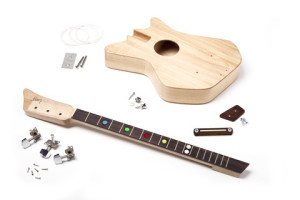 These small guitars take the frustration out of learning to play the guitar. Small hands have a hard time trying to form chords on a full size guitar neck, as anyone who has tried to play the guitar as a kid knows. You can tune your 3-stringed Loog to be the same as the first three strings of a six string guitar, so everything you learn can easily be transferred to a 6 string guitar later.
Loog also provides videos, lessons, chord charts and songs specifically for the Loog to get kids playing right away. They're also working on an app that will be released soon.
The Loog guitar was successfully funded on Kickstarter, the crowdfunding website, in 2011. Raising over $65,000 from people all over the world to help get the project off the ground.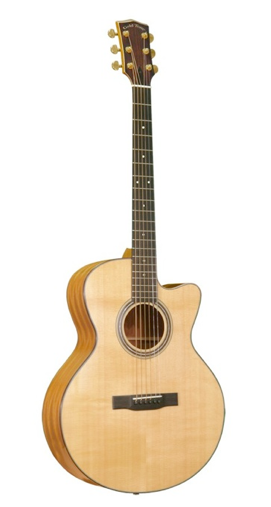 This is a wonderfully rich and gutsy sounding guitar. Tuned in between the ranges of a standard 6-string and a bass (usually BEADf#b or ADGCea), it is great for filling out the bottom end of a rhythm section to replace or compliment a bass part while still having a reasonably high range for chording and maybe a little lead work. I personally love the punchy, driving sound of this guitar and would be tempted to put it into a drop-A (AEADf#b) or other open tuning.
Solid Sitka Spruce top, Mahogany back and sides. It has a 29-1/16″ scale length and a zero fret. The strings are a higher gauge to keep the string tension feeling comparable to a standard guitar. this instrument comes with a pickup installed, it is a passive under-saddle transducer with endpin jack. Fitted hardshell case included.
Check out this quick demonstration:
Featuring a solid Sitka Spruce top with Maple back and sides, this jumbo bodied acoustic bass has a full, clear tone throughout it's range. The action is great and very playable all the way up the neck. Cutaway gives you access to the 20th fret. Includes Fishman ISYS+ pickup.
Case not included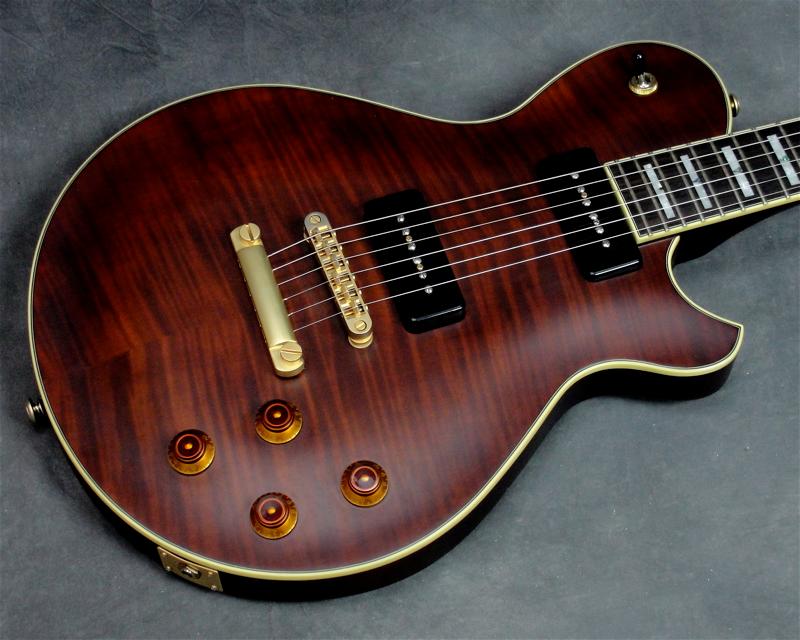 Talk about a lot of guitar for the money. This guitar has a smooth playing neck and a very versatile sound. It comes with some very smooth Grover tuning heads. And after setting it up personally we are proud to be stocking this instrument!

This is a nice example of why you don't need to spend a thousand plus dollars to get a quality guitar. Aside from the gorgeous flame maple top this guitar has great sounding stock pickups and pots. The sound is really versatile, especially due to the fact that you've got a push-pull knob that turns the hum buckers into single-coil. This guitar has been professionally set up by us in the store and we are absolutely confident that this guitar is worth every penny and more.
This small guitar is going to fill a niche that hasn't really been filled yet.
I haven't yet found something compact with a larger neck width and scale length that feels like you are finding your way around a std guitar fretboard and this does that quite nicely while having a small but resonant acoustic body. The nut width is just 2mm under a standard classical width and the scale length is 20″ which is joined to the body at the 14th fret.
The Cordoba mini comes in 3 versions: solid spruce top with mahogany back and sides, solid spruce top with indian rosewood back and sides and solid ovangkol top with ovangkol back and sides and they all include a well padded gig bag.
This is certainly more attractive, to me, than the several models of guileles's or fractional guitars that I carry or have come across elsewhere to date!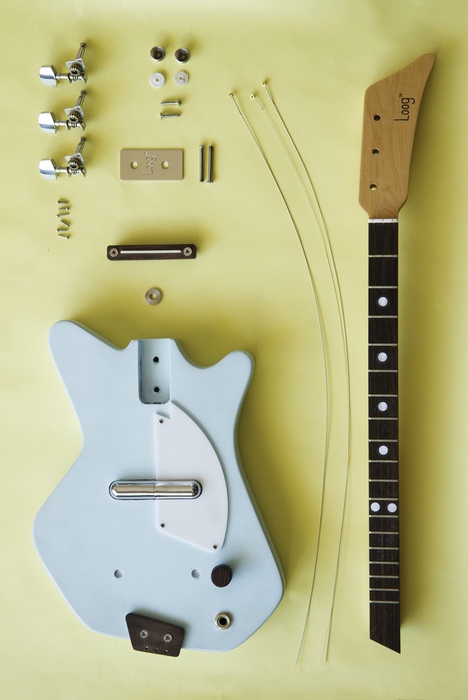 This build-your-own guitar kit comes ready to assemble and is meant to be put together by kids with their parents. An easy path into the world of guitar for the beginner, these guitars have only three strings and the maker offers a series of video lessons on their website.
Fantastic fingerpicking guitar with the unique clarity and versatility of an Adirondack spruce top. This particular guitar and run of 600 are special because Eastman discovered some unused Adirondack spruce cut some 20 years ago! Slightly larger than a parlor model but still has that small, easy to hold body and focused projection.
The Cordoba Requinto 480, a discontinued 1/4 size solid top student guitar.
Custom Hardshell Case Available for $119.95
Comes with Cordoba Polyfoam Case
Cordoba has long offered good selection in classical guitar sizes, but primarily at the entry level. Their C5 dolce or 7/8 size is popular for smaller folks with smaller hands that still want an instrument with projection and depth. Due to that popularity they have now introduced a higher level guitar of the same dimensions, 630mm string length and 50mm width at the nut vs the 650mm string length and 52mm nut width we find on the 4/4 sized classical. The C10 parlor comes in two all solid wood options, cedar top with rosewood back and sides and spruce top with rosewood back and sides. You can also get a mahogany back and sides with cedar top option called the C9 parlor.
With hard shell case
On occasion I have access to discounted instruments with minor imperfections and this is one such occasion. Perfect beyond some small pin prick sized bubbles in the finish  in the bridge area this 17″ AR 810CE is a fully carved solid wood jazz archtop. Remarkeable value really, very few, if any, commercial guitar makers are creating solid wood, hand carved archtops in this price range. These instruments are truly inspiring to play if you desire an instrument to match your Jazz tendencies or aspirations!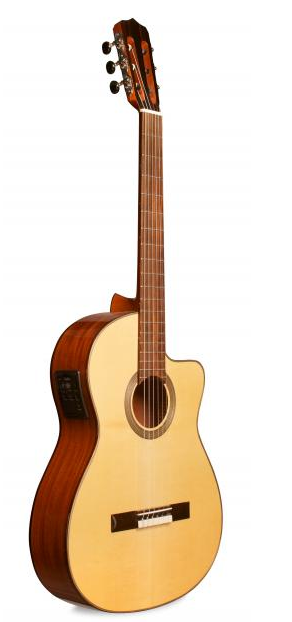 Fantastic crossover guitars for folks who like aspects of both steel strings and classicals. Thinner neck (thickness) with slightly less width at the nut, 1 7/8″, radiused fingerboard, cutaway and pickup. Price includes gig bag. This is the entry guitar into Cordobas Fusion series.
The tenor guitar, like many instruments, holds a particular place in the history of instruments but, like many others it has been rediscovered and for some played in new directions. I love the tension on these instruments, you can really dig your fingers into the strings. The tuning, in fifths, opens up a whole new palette and there are many finger patterns that can be transferred from other instruments to this tuning, tenor banjo being the most obvious or a mandola for another example.
Case $124.95
Le 'Petite Bouche' or oval hole model of Gypsy Jazz guitar was developed after Mario Macaferri parted ways with Selmer. With a longer scale length and joined at the 14th fret this style of guitar is what Django Reinhardt used for lead playing with his 1930's orchestra. Most noticeable about these guitars, besides their unique sound is the wider finger board, measuring 1 7/8″ at the nut. Hardshell case included.
The Cigano GJ-15 is a decent entry level Macaferri copy made by Saga Instruments. Fit and finish is nice, it does a reasonable job of producing that  bright thin punchiness to play rythm backup for Django or your frineds and it comes with a hardshell case.