Here we've got a functional Tabla set of both larger and smaller Bayan and Dayan. They appear to be hand-beaten copper. Of unknown origin though most likely from India as anyone hammering out the copper bodies by hand and making an authentic looking instrument here in North America would be asking a fair penny for them.
Syahi (black pad on the skin) on the smaller "Dayan" is showing some wear. A couple of Gatta (tuning dowels) are missing from larger "Bayan". Although we don't usually see them on the Bayan at all. There is definitely a bit of maintenance that would need to be done to put them into prime playing condition, as you might expect from a Tabla set at this price. Though from what we can tell these are very serviceable instruments that are not in need of anything drastic.
An excellent opportunity for somebody wanting to explore the music of India
Click here to view this item in our webstore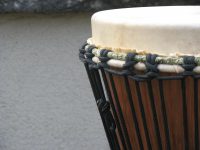 This drum is beautifully crafted from repurposed wood and a perfectly tensioned goatskin head. It has a completely unique tone due to an almost combo design between Ashiko and Djembe. The stave joinery in these drums is amazingly tight and the attention to every last detail is remarkable for the price! View some more detailed photos and other drums at Gold Line Drums.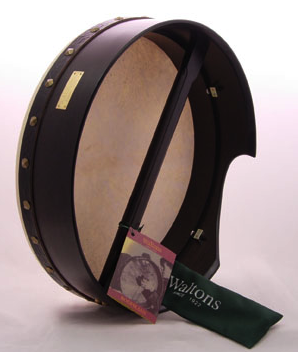 Walton deep frame 16″ tuneable bodhran with tipper and allen key.