Left to Right:
Morgan Dreadnaught Cutaway with case, Solid Sitka Spruce top, Brazilian Rosewood back/sides, hand built in Vancouver, British Columbia. $3500
"Almost-Vintage" 1983 Washburn with case, either a Hawk or Falcon model. Push/Pull knobs change high output MMK Humbuckers into Single-Coil. $699
1890 Oswald Schaller 4/4 Violin with case, Frankfurt Germany. $1500
Yamaha Classical with case, CGX171CCA, internal microphone and pickup. $599
Here's a really fun and interesting experiment inspired in part by the mandolin's larger cousin the Octave Mandolin. We took a 16″ Viola and set it up with special strings from Sensicore to be played in GDAE tuning an octave below a standard violin. The result is a very robust and rich cello-like timbre that is nothing short of satisfying. An excellent choice for accompaniment, regular fiddle music and fingerings can be used and will sound an octave down.
You can expect to see some further experimentation in this realm from us in the near future. As a broad spectrum of timbre and responsiveness is available by playing with string guage, string length, body size, rosin and bow selection. Who has time to be bored?
It is now becoming common for guitar builders to be incorporating a bevel on their guitars for the picking arm to comfortably rest on. The idea is gainging ground as more and more people are getting the chance to play guitars with the arm-bevel. But hardly any factory built guitars out there are incorporating this feature. Enter this new model Teton Grand Concert. Here we have a guitar that sounds exceptional for it's price range, with a Solid Sitka Spruce top and Rosewood back and sides. The fingerboard, bridge and bridge pins are also made of Rosewood and it comes with a factory-installed Fishman Presys+ active pickup system.
Check out the full specs here.
Another stunning Morgan guitar on consignment! This guitar was hand-built in Vancouver BC. Superb attention to detail has been put into every aspect of this fine instrument. It has a solid sitka spruce top and South American mahogany back and sides. A fitted hardshell case is included.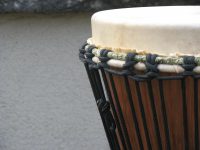 This drum is beautifully crafted from repurposed wood and a perfectly tensioned goatskin head. It has a completely unique tone due to an almost combo design between Ashiko and Djembe. The stave joinery in these drums is amazingly tight and the attention to every last detail is remarkable for the price! View some more detailed photos and other drums at Gold Line Drums.
On occasion I have access to discounted instruments with minor imperfections and this is one such occasion. Perfect beyond some small pin prick sized bubbles in the finish  in the bridge area this 17″ AR 810CE is a fully carved solid wood jazz archtop. Remarkeable value really, very few, if any, commercial guitar makers are creating solid wood, hand carved archtops in this price range. These instruments are truly inspiring to play if you desire an instrument to match your Jazz tendencies or aspirations!
This guitar has the requisite patina of a vintage gibson as well having great tone. Love that classic chunky bass. Neck angle is good and the guitar is very playable with nice action. A pleasure to play and a pleasure to look at!
This 21 chord autoharp is pre 78′ which means it was made in the USA! The zither pins are all working and it's good shape.
This old tyme clawhammer signature series Bob Carlin banjo not only plays wonderfully but looks the part. Neck attachment strength and angle can be challenging with the old dowel stick system and although it looks like that's the system on this banjo it's not. Fake dowel stick over a modern, single co-ordinator rod, which is certainly more aesthetically pleasing to some.
Possibly a Hawk or Falcon from the Matsumoku factory. High output MMK pickups. This is a fun guitar with split coils on each humbucker giving some nice tonal options and great playability.